Palestra de Alan Wallace em Curitiba (áudio na íntegra)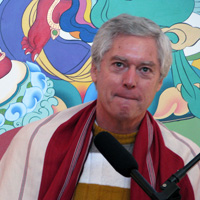 O Bruno do CEBB Curitiba me enviou estes dois áudios essa semana. Vale a pena!
• Palestra na íntegra "Healing the Mind: Where Meditation and Neuroscience Converge", realizada dia 7 de junho de 2009 em Curitiba. Tradução de Eduardo Pinheiro. Duração: 2 horas e 24 minutos.
• Resposta de Alan Wallace durante o retiro realizado em junho de 2009 no CEBB Caminho do Meio – Viamão/RS. Duração: 6 minutos.
Ouça online ou baixe o MP3 no site do Instituto Caminho do Meio.
Gustavo Gitti é aluno do Lama Padma Samten. Pode ser encontrado às quintas no CEBB São Paulo. | Leia outros posts de Gustavo Gitti
Receba o próximo texto